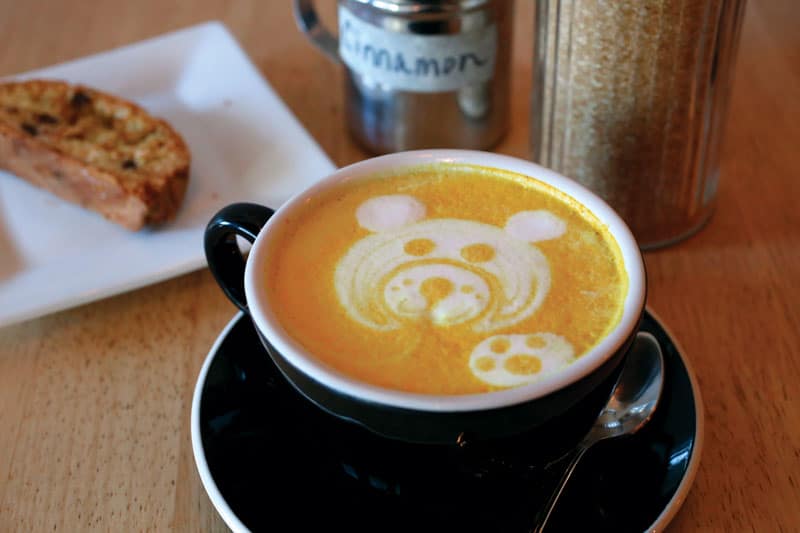 Catch a Buzz at These Top Coffee Shops and Cafés in Westchester
Consider coffee a food group? Read on to find out where to get your java fix in the 914.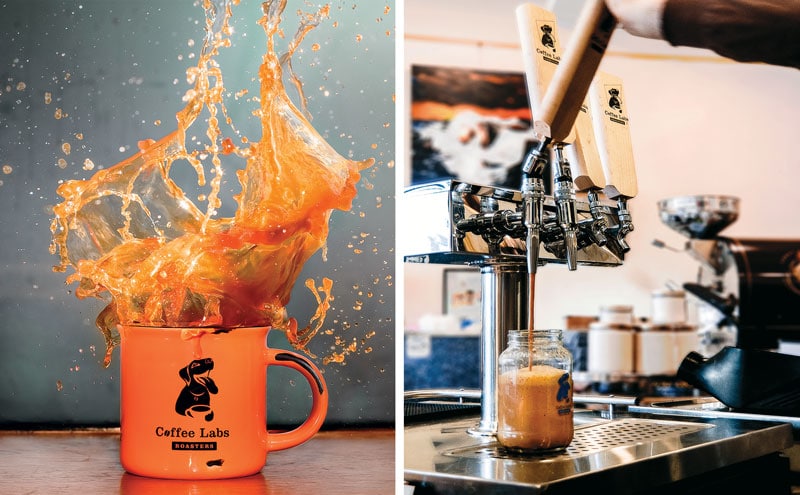 Right: Coffee Labs Roasters serves nitro coffee that is cold-brewed, infused with nitrogen, and poured from a keg, giving it a creamy, thick feel.
PHOTOS BY CLARENCE FRANCIS MOREY III
— The Super Seven —
Our top picks for county caffeination
Coffee Labs Roasters
Tarrytown
This small (19 seat) coffeehouse is spare in its looks and expansive in its coffee cred. Owner Mike Love says he spends roughly three months of the year traveling around the world, buying coffee. He employs two roasters and prides himself on having exclusive blends. "We came in right at the time of the coffee explosion and pride ourselves as being a third wave [see coffee-definitions sidebar, page 86] coffee shop."
If there are no seats inside, or in nice weather, customers sit outside on the lone bench or stand on Main Street sipping coffee from farms where Love has strong connections. He calls these "relationship coffees," noting, "There's a science to coffee, but it's very much about the people." Try one of the CBD-infused drinks or the nitro brew.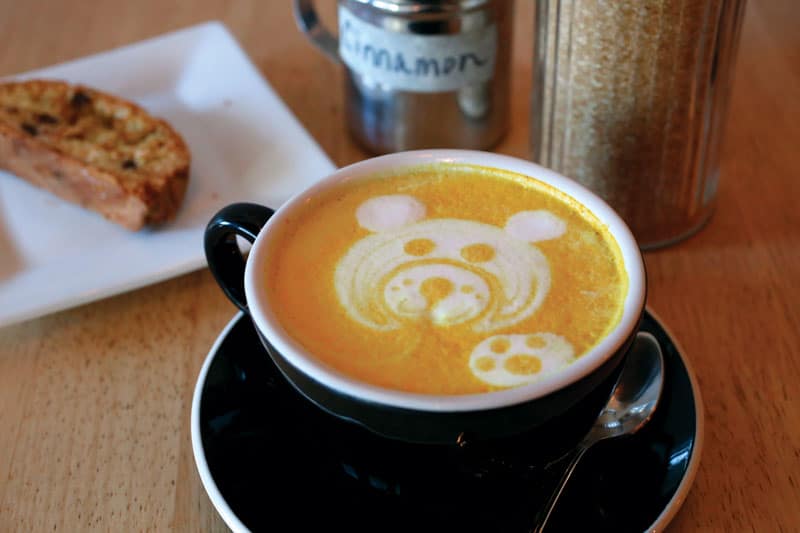 First Village Coffee
Ossining
There's a Brooklyn vibe here, with a combination of leather and wood chairs, a colorful tiled floor, and an expansive counter selling house-made baked goods (with a great vegan selection). Luis and Kathryn Corena, the local owners behind this venture, are committed both to the community and to featuring roasters that, as Luis says, "offer transparency and fair and direct trade." Kathryn notes that it also has to translate to "really delicious coffee."
Their beans come from companies such as Irving Farm and Red Rooster, and they love "engaging with our customers about the product," Kathryn says. Two of the most popular drinks are the coffee lemonade and an oat churro cortado, made with oat milk and homemade churro syrup. It's served with a shot of Pellegrino.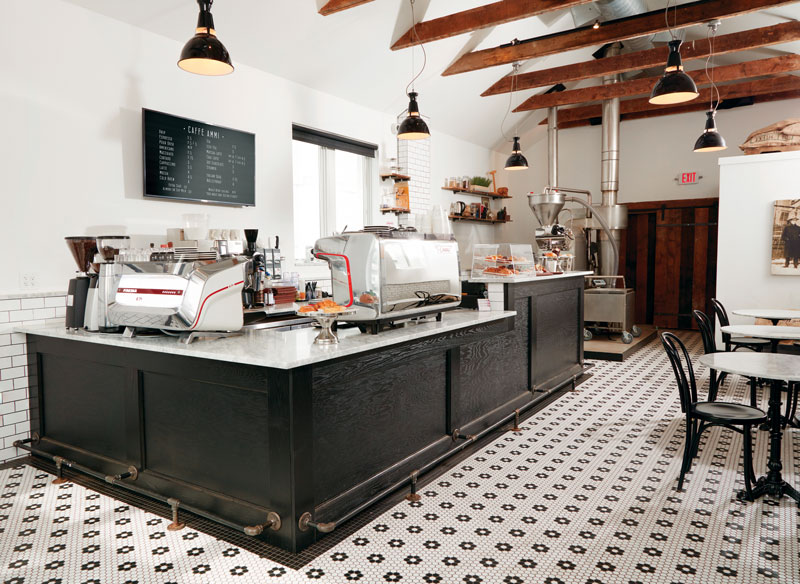 Caffè Ammi Roasting Co.
Pelham
As the third generation of his family in the coffee business, Joey Ammirati has coffee running through his veins. He's taken that passion and opened this lovely space, decorated with black-and-white tiles, tables and chairs, plus a coffee bar where customers can stand and chat with the barista. There's a nod to the past with old-fashioned espresso makers on shelves and an eye toward the future with the café's sleek espresso machine.
Ammirati's passion is roasting (the café also handles wholesale accounts), and his roaster is "one of the, if not the most sustainable and efficient in the world," he says. Ammirati loves when customers put themselves in the hands of the staff "to have a coffee experience." He recommends adventurous coffee drinkers try a single-origin espresso or cortado.
Java-nology
Want to consider yourself a coffee connoisseur? Know these terms.
Cortado​: A beverage that mixes equal parts espresso and warm, steamed milk, which reduces acidity. A number of Westchester coffeehouse owners say it's their drink of choice.
Cupping: The art of learning, through aroma and taste, about coffee. Cupping can teach about a roast's profile or about the process of creating the coffee. A way to develop a palate.
Extraction: The process of drawing flavor from coffee grounds.
Chemex​: (Shown above) A one-piece, hourglass-shaped, nonporous, glass coffeemaker, which uses a specially designed filter, so no other flavors come through the coffee.
Pour Over: Grinding beans for a single cup and using a slow-pouring kettle to customize a coffee's strength by varying the ratio of coffee to water.
Third Wave: The principally American movement started in the 1990s, favoring high-quality coffee, treated as an artisan product.
Fourth Wave: Now underway, as coffeehouses shine a spotlight on the producers that offer direct-trade, fair-trade, and organic coffee.
Micro Lot: Coffee harvested from a specific plot of land and processed separately to bring out the lot's unique geographic characteristics.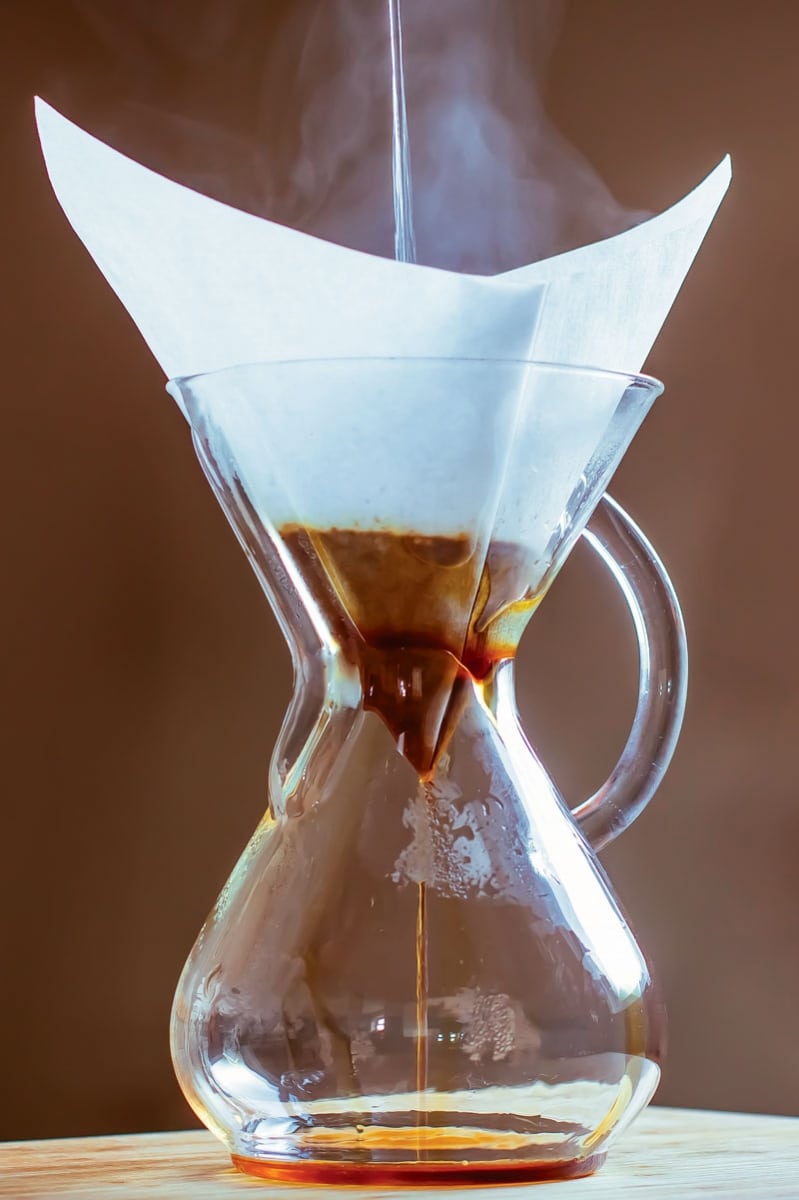 Mimi's Coffee House
Mount Kisco
The warmth of owner Selamawit ("Mimi") Wieland-Tesfaye's personality comes through in this space. A reclaimed-wood counter, rattan pillows on chairs, and art from Ethiopia — representing Wieland-Tesfaye's heritage — give this café a feeling of tranquility.
"People said I was brave for opening so close to a Starbucks, but I always wanted a comfortable and cozy place like this," says Wieland-Tesfaye, who supports other locally owned women's businesses by selling their baked goods at Mimi's. She wants to educate customers on the various coffees served here and introduce them to some new ones. Try the Ethiopian pour over or a Prana chai drink.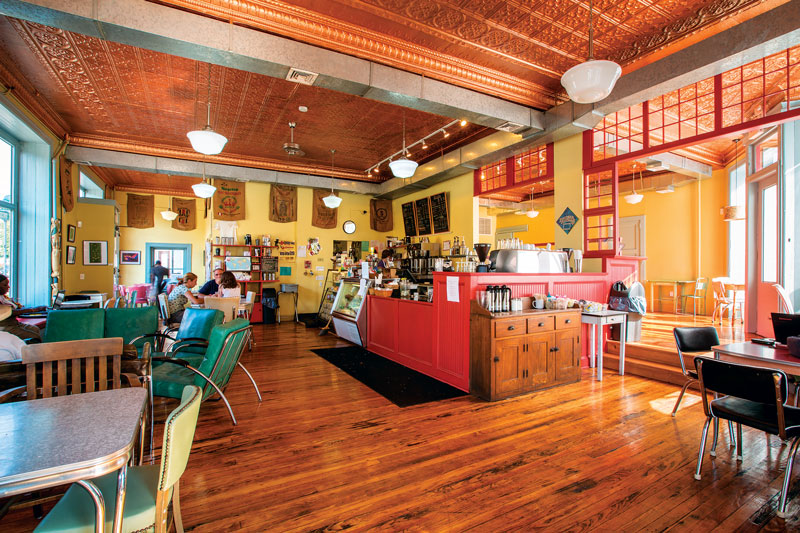 The Peekskill Coffee House
Peekskill
A bright-red counter, Formica tables with mismatched chairs, and a tin ceiling are among the myriad charming touches you'll find in this sprawling, multiroom space. Owner Sunny Cover says the coffeehouse has served Peekskill's changing community: "We've been here since 2003 and are a part of this town's history." As the town has evolved, so has the coffee culture and the menu here.
Cover is always looking to "bring in relevant products," so she's even added "super-food" lattes without caffeine. And when it comes to coffee, Cover looks to tell customers the story behind what they're drinking." People lose sight of how many hands it really takes to make one cup of coffee," she notes.
The Black Cow Coffee Company
Croton-on-Hudson & Pleasantville
In owner Michael Grant's words, a "homespun vibe" is what you'll find at both locations. The (original) Croton spot is the larger of the two — yet both have mismatched furniture, plenty of black-cow-themed merchandise, and a large coffee menu. "My wife and I wanted to create a place where when you enter, you feel a little calmer. There's always good music playing, and we encourage customers to make a little time for themselves to sit with their drinks," Grant says.
The Croton location has a roaster as its centerpiece, and the coffee hails from Central America, South America, Africa, Asia, and the U.S. But don't be fooled by Grant's whimsical product names: He is dead serious about his coffee. "In the culture of coffee, there's a science to a good cup," he says. Try either the Black Cow or the Cow Whip.
Slave to the Grind
Bronxville
Looking much like it did when it opened 26 years ago, a combination of "cozy and a little bit kitschy," according to owner Carol Marshall, this coffeehouse can be considered the mother of the independents that followed. As befits being in a "college town" (Concordia College and Sarah Lawrence are nearby), Slave to the Grind is nothing fancy but definitely welcoming. Customer-donated magnets from all over the world decorate the walls, as does a mural of a tree thanking patrons for their business.
Coffee beans are sold from dispensers in the front of the store. Marshall says, "I've always loved that coffee represents hospitality in so many cultures." The bestsellers here are flavored iced coffees, such as banana cream pie and oatmeal cookie, and the Brain Freeze, a frozen espresso drink.
— 10 More To Try —
You can't go wrong at any of these hotspots
Generations naturally come together at Bobo's Café in Somers as both retirees and high school students (and ages in-between) sit at round wagon-wheel tables or outside in the shopping plaza. They serve Japanese-style YAMA cold brew and their espresso, with distinct tasting notes, makes the lattes a must-try.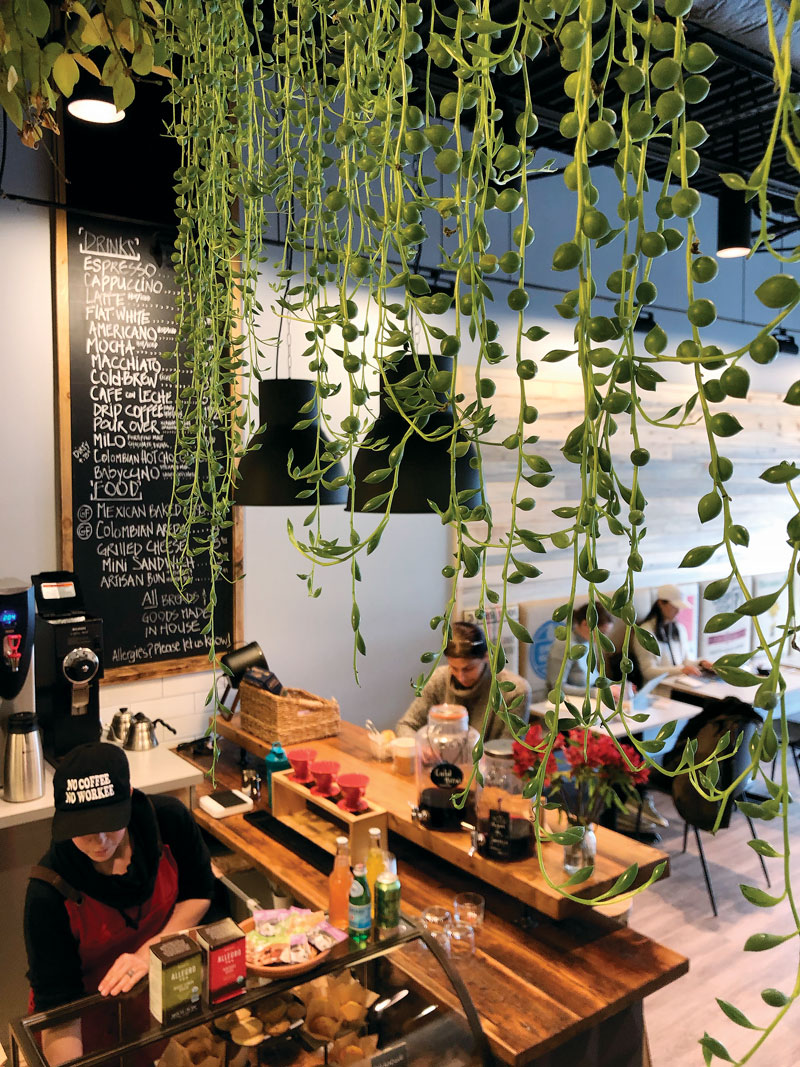 The trim, modern space of Espresso Cafeto in Larchmont has burlap coffee bags as the back-bench seating and black-and-white tables and chairs. Reflecting the owner's Colombian heritage are such drinks as a Colombian hot chocolate and hibiscus-infused water, plus Colombian baked goods. Specialties include matcha lattes and cappuccinos.
A sprawling space boasting a kaleidoscope of décor, BeanRunner Café in Peekskill has a children's room with antique rocking horses, an outdoor patio, and a room with leather chairs and large plants. There's also a stage for performances. Frozen drinks, hot chocolate, and real-fruit smoothies are among fan-favorites.
Sitting in the burnished-wood Chappaqua Station, located in the restored 1902 train station, you're definitely not going to want to catch a train. With a country-market feel, you can enjoy its turmeric-ginger latte, made with unsweetened coconut milk, and then do some fruit and veggie shopping as you listen to the train rumble by. As Erin Chase, co-owner of Chappaqua Station, puts it, "A simple cup of coffee means different things to those in our community."
In addition to the brisk morning-commuter business, customers can sip lattes while enjoying a quick sandwich later in the day. And this coffeehouse serves alcohol!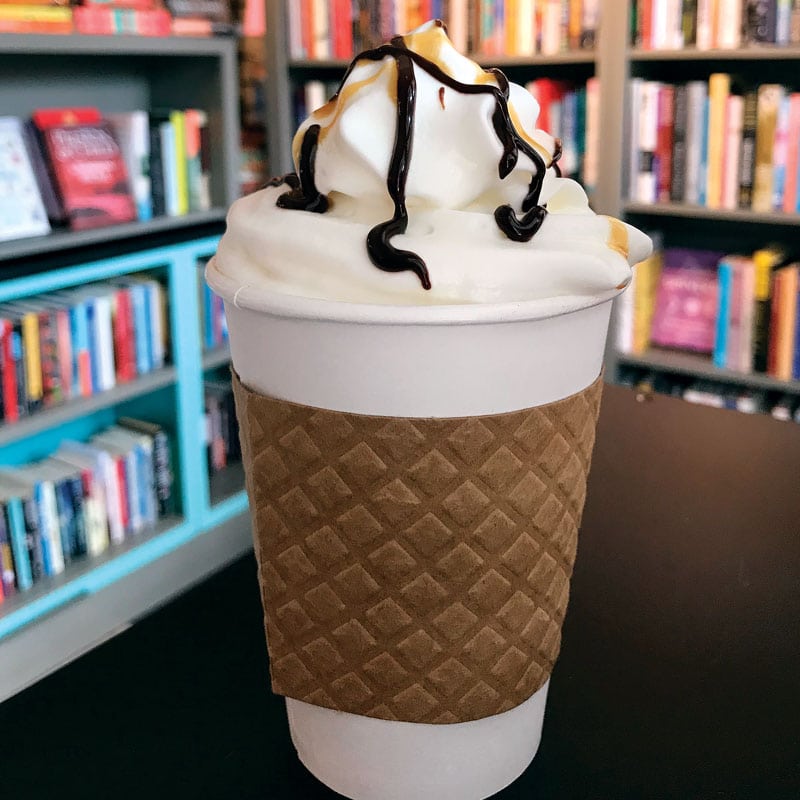 The best seats in the house at Katonah's The Reading Room are the seats on the porch. Inside, buy one of the great cookbooks, pull up a chair at the communal table, and talk recipes, in the space that was the original Katonah library. Peruse the helpful board that explains coffee terminology and then fill 'er up with a chai latte or an Arnold Palmer, with fresh-squeezed lemonade.
Step into Dobbs Ferry's CAFFELATTE and you'll hear older gentlemen speaking Italian, see photos of Italian celebrities decorating the walls, and take in the no-frills décor and menu. Since everything here is imported from Italy, immerse yourself fully and nibble on a biscotto while sipping an espresso.
As befits a coffeehouse with the name Sunshine Coffee Roasters, the atmosphere here is sunny. Sit outside on orange metal chairs or take a window seat to observe Larchmont's quaint downtown and soak up the ambience. The tiny shop has a small roaster but a large reach to the coffee; more than 20 varietals are offered over the course of a year.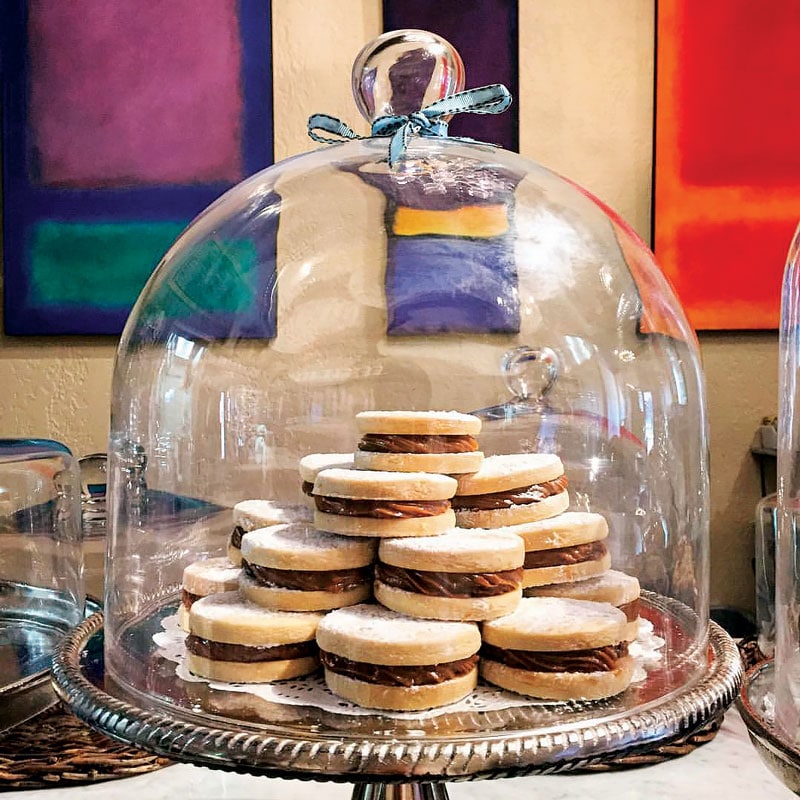 Soak up the charming European atmosphere at R Patisserie Cafe & Tea Boutique in New Rochelle, with soothing blue tones, comfortable couches, and a communal table. Local is key here: The coffee is from Coffee Bros. (two local brothers) and the alfajores cookies are made by an area grandmother. Look for drinks named for customers or quaff a cold brew or a Cuban macchiato.
With a nod to the past in a historic building and an eye to the future with its sleek décor, customers can sit under exposed rafters next to the (nonoperational) fireplace at Kurzhals in Peekskill. Enjoy a pour over or a Café Olé — its fancifully named café au lait. And the chai is house-made, as are the variety of baked goods.
Whether you sit in the garden patio or inside on bright-red chairs amidst such funky touches as an old typewriter and a wicker peace sign, the vibe at Tarrytown's Muddy Water Coffee & Café is a combination of contemporary and comfortable. Matcha and turmeric lattes are big sellers, and they have a great array of teas.
— Just Brew It —
These local roasters are producing buzz-worthy coffee.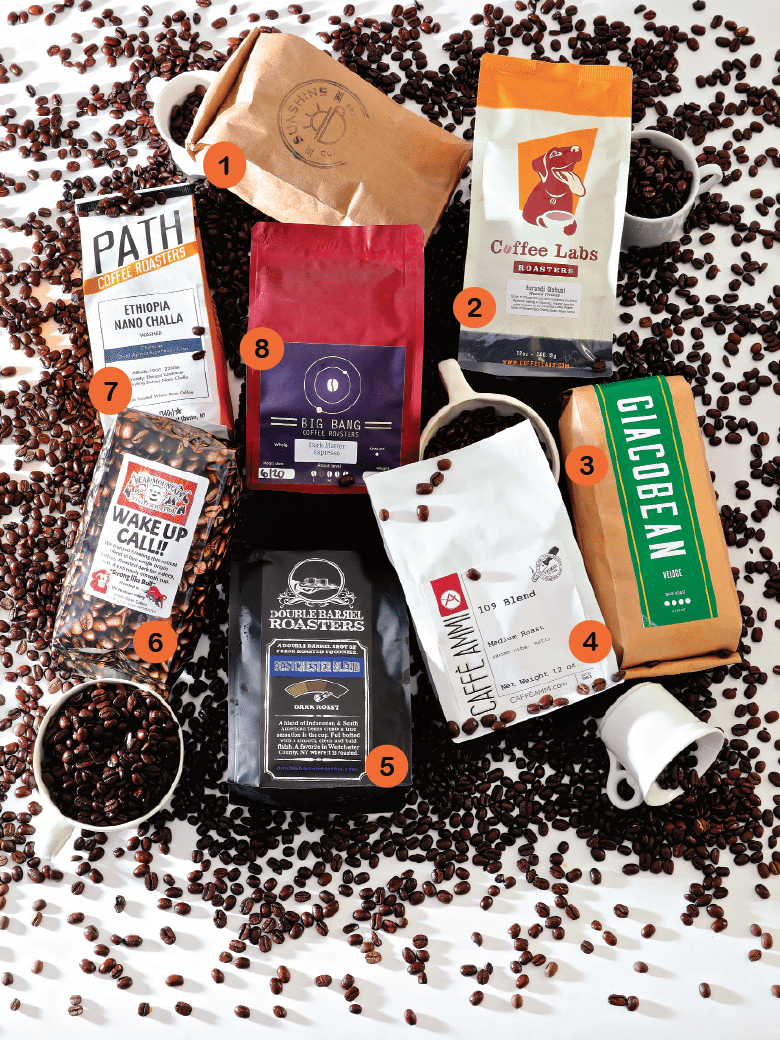 1. Java Estate Pancoer
Sunshine Coffee Roasters, Larchmont
A smooth, medium-roast Indonesian coffee, Sunshine's Java Estate boasts notes of hazelnut, caramel, and chocolate.
2. Burundi Gishubi
Coffee Labs Roasters, Tarrytown
This blend is part of the Long Miles Coffee Project, which builds sustainable, direct-trade partnerships with farming communities in Burundi.
3. Veloce
GiacoBean Hastings-on-Hudson
GiacoBean's deepest roast is big, bold, and decadent — ideal for pour over or French press.
4. 109 Blend
Caffè Ammi, Pelham
A play on Italian espresso, this blend of beans from Honduras, Brazil, and Uganda employs progressive roasting techniques for a bit of brightness.
5. Bestchester Blend
Double Barrel Roasters, Yonkers
A customer favorite, this small-batch dark-roast coffee is smooth, full bodied, and earthy.
7. Wake Up Call!!
Bear Mountain Coffee Roasters Yorktown Heights
Indonesian and Central and South American beans constitute this silky, bestselling blend with milk chocolate notes.
7. Ethiopia Nano Challa
Path Coffee Roasters, Port Chester
Path specializes in small-batch, primarily single-origin coffees, including this crisp, washed Ethiopian Nano Challa.
8. Dark Matter Espresso
Big Bang Coffee Roasters, Peekskill
Organic, ethically sourced beans are roasted in small batches for this popular espresso blend that's also great for cold brew.
---
Abbe Wichman is a freelance writer who specializes in food and drink. In writing this article, she met many great coffeehouse owners with real passion and commitment to their communities.